SMART MONEY ACCOUNT
(For FAST transaction we prefer SmartMoney transfer)
5577 5139 5303 4117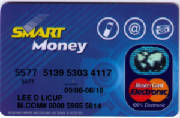 How to transfer funds via SmartMoney?

Go to SMART Money Menu, click Transfer, click Others, enter 5577513953034117,
Click OK then choose your Smartmoney Name
Type in amount you wish to transfer (reload).
The next screen should give you "Transfer "amount" to card no 5577513953034117, Click OK. Enter your pin and click OK again.
Wait for the text confimation indicating that you have successfully transfer the "amount" to our SmartMoney Account.
NOTE:
When paying via SMARTMONEY, please forward the text confirmation from SmartMoney with your retailer sim number and the amount you transferred to 0920-6439755.
We will not be held responsible for wrong cellphone numbers provided or any typographical error.
You will receive your Load as soon as your payment has been verified. Please keep your Cell Phone on & active [within coverage area] after payment has been made to avoid any problems during reloading.
All transaction are final, E-Loads are not refundable.